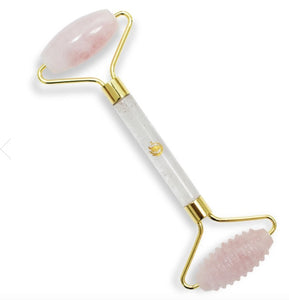 Calmlish
Glow Roller Rose Quartz
Regular price
Sale price
$75.00
Free Domestic Shipping
---
Calmlish double ended Glow Rollers are designed for glow, facial muscle relaxation and lymphatic drainage. The textured end stimulates stagnant areas and smoothes lines, uneven skintone and scarring. The smooth crystal end cools, calms, relaxes facial muscles and drains excess fluid from the face.
The clear quartz handle "charges" the two crystal ends to amplify their crystal healing power.
ROSE QUARTZ

Pure love for your skin. Rose quartz is the crystal of love and self care. Rose quartz helps us love the skin that we are in, and that is the quickest (and we believe best) way to heal any skin problem. 

Rose quartz soothes even the most sensitive, inflamed and delicate skin types with its loving vibrations. This crystal's affinity with the heart and circulatory system makes it an obvious fit for wise complexions looking for a youthful glow.
Please note that all crystals are unique and therefore there will be variations in color, shape, structure, surface, etc.
For extra glow.
Use the textured crystal end of the Glow roller for glow and rejuvenation and the smooth crystal end for lymphatic drainage and relaxation of facial muscles.
View the guide on how to use your Glow Roller here.
WHEN NOT TO GUA SHA
Gua Sha massage is not ideal when you have:
Sunburn
Fugus
Infected skin
Wounds
Damaged skin
Skin cancer
Illness
Swollen lymph nodes
Fever
If you are in doubt, always ask your doctor. Use with caution if you are taking blood thinning medication. If you have any type of blood disorders, or have extra sensitive skin due to illness and medicine, talk your doctor first.
CAN I USE MY GUA SHA WHILE I'M PREGNANT?
It is safe to perform Gua Sha massage on your face while pregnant, but ask your doctor first before doing Gua Sha on your body, as this treatment is detoxifying.
HOW DO I CLEAN MY GUA SHA?
You should wash your Gua Sha with soap and water after each use.
Crystals absorb energy, so we also recommend cleaning your Gua Sha crystal energetically with sea salt baths. Fill a bowl with 1.25 cups of water and 1 tbs sea salt. Place the Gua Sha in the bowl and let it be there for up to 24 hours. If you have more than one Gua Sha crystal to clean, clean them separately, not in the same salt bath.
The metal on the glow rollers doesn't tolerate salt water, so to energy cleanse the glow rollers place them on a bed of dry sea salt for up to 24 hours.
HOW DO I RECHARGE MY CRYSTALS?
You can place your crystal Gua Sha tools in the windowsill during a full moon to charge them. You can also hold your Gua Sha in your left hand and place your right hand above the crystal and set a healing intention from your hand to the crystal, mentally reciting the properties you would like from it. Remember energy flows where intention goes.
HOW OFTEN CAN I USE MY GUA SHA?
There are no rules, but for visible results, we recommend you start by doing Gua Sha 5 times a week. Once you have your desired results you can maintain them by doing Gua Sha 3 times a week or as needed.
DO I NEED TO USE ANY SPECIFIC PRODUCTS WITH MY GUA SHA?
It's important you use an oil appropriate for your skin type or a balm that will provide glide for the Gua Sha tool.
WHICH CRYSTAL SHOULD I CHOOSE?
Choose the crystal that you feel intuitively attracted to or use the crystal descriptions for guidance.