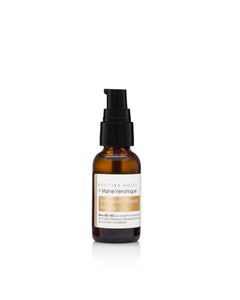 Marie Veronique
Kristina Holey + Marie Veronique Intensive Repair Serum
Regular price
Sale price
$115.00
Free Domestic Shipping
---
This gel is an amazing refiner. It works strategically to strengthen the skin in a way that is supported and resilient against breakouts. Instead of stripping, drying and sterilizing the skin, client trials have shown a balance in oil production, a decrease in dry/inflammed skin from previous acne treatments, and decongested pores.
When used as a supplement to OTC acne medications the transition period was minimal with little to no negative adjustment period.

For her clients that do not have acne or excessive oil production, KRISTINA HOLEY recommends using this serum as an exfoliant (nightly 1-2x per week, or as a 20 minute gentle exfoliating mask). Clients reported a brightening effect, increase in product penetration and overall smooth texture.
Reduces congestion, controls oil, and refines the complexion. Safely and effectively combats either chronic acne or sporadic breakouts. Works naturally by supplying missing micronutrients rather than assaulting skin with anti-microbials that may compromise microbiome integrity.

VITAMIN B5 Regulates sebum overproduction by boosting Co-enzyme A activity.
LACTIC ACID An alpha-hydroxy acid that speeds cell turnover rates and supports ceramide production.
SALICYLIC ACID A beta hydroxy acid that dissolves compacted debris in cells to decongest pores.
ACETIC ACID Apple cider vinegar maintains healthy pH levels to discourage pathogenic overgrowth.
MARRUBIUM EXTRACT Anti-inflammatory, soothes irritated skin.
ALL INGREDIENTS
Sodium Hyaluronate, Camellia Sinensis (Green Tea) Leaf Infusion, Lactic Acid Extract, Salix Nigra (Willow) Bark Extract, Leuconostoc/Radish Root Ferment Filtrate, Niacinamide (Vitamin B3), Probiotics, Gluconolactone, Pantothenic Acid (Vitamin B5), Glycerin, Camellia Sinensis (Green Tea) Extract, Panthenol (Provitamin B5), Beta-Glucan, Polygonum Aviculare (Knotweed Bioflavonoids) Extract, Marrubium Vulgare (White Horehound) Extract, Galactooligosaccharides, Acetic Acid (Apple Cider Vinegar), Water, Daucus Carota Sativa (Carrot) Root Extract
Microbiome-friendly
Fragrance + Essential Oil Free
Shake well. At night, apply a thin layer after cleanser and mist/tonic. Follow with your recommended serum and moisturizer or oil. If irritation develops discontinue use.
Keep in a cool place out of direct sunlight. Use within 6 months of opening.
*Additional Information: Intensive Repair is an active, exfoliating, and clearing product and people should always begin using it sparingly. It is suggested to begin using Intensive Repair only 2x/week (as part of the PM regimen) and can increase frequency during times of oil increase or as a spot treatment (ie. some clients only use the 7 days before their period or when stressed). Also, you can use it on small sections of more problematic skin rather than over entire face (for example just in T zone, around the chin, or on the nose). Think about how various parts of your face feels, your sensitivity, your needs, etc (as with ALL other products). It is not advised to begin using it daily until you have given your skin a chance to adjust and see how it responds. As with all products, everyone will respond differently so take it slowly to start and also take into consideration all other products you are using at the same time and what their potential impact will be (retinoids, exfoliating cleansers, masks, toners, etc).
It is important that you follow the serum with the appropriate products intended to support the barrier layer of the skin, such as the Barrier Restore serum (and Soothing B3 Serum if you have inflammatory or dehydration concerns). Then to complete the regimen, follow with the appropriate oil on top; providing all the elements imperative to nourish and protect the skin.