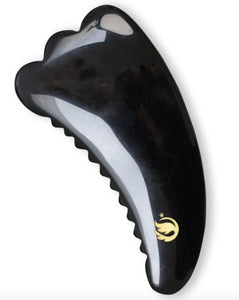 Calmlish
Shape Body Gua Sha Obsidian
Regular price
Sale price
$95.00
Free Domestic Shipping
---
The Shape Body Gua Sha tool has multiple textures designed to smooth out tangled and stiff fascia layers. Relevant for scarring, body acne scars, wrinkles and cellulite. One side works on the superficial layers of fascia, one side works on the deeper layers of fascia and one side is smooth for classic Gua Sha massage. This beautiful tool is 3 treatments in one.
Body Gua Sha massage is the perfect technique to reduce cellulite, tension and fluid retention. As you begin to release tension and break up facia adhesions with the Gua Sha tool, you increase blood flow to the skin. An increase in blood flow means that more nutrients are delivered to your skin tissue and more waste is eliminated. It's through increased blood flow that collagen and elastin are delivered to the skin to firms and tighten over time.
Skin benefits of Gua Sha body massage include:

Reduces cellulite.
Improves blood circulation, which increases skin's healthy glow.
Supports lymphatic drainage.
Promotes skin cell renewal.

Improves muscle tone by breaking up fascia adhesions that restrict blood flow to the muscles.
Gives you softer, smoother and firmer skin.
Reduces pain and tension.
Allows for more flow and energy throughout the body.
Creates a sense of relaxation in the body.

Increases body awareness.
Every Gua Sha is carved by hand and due to the natural variation in the crystal, every Gua Sha will be unique. 
OBSIDIAN

Pure protection for your skin. Obsidian is a grounding pitch-black volcanic rock with protective and purifying qualities. 
Obsidian is great for stressed and overstimulated skin types and is the to-go anti-stress rock for busy city life. If your skin needs some extra protection from pollution and stimulants, then this is the rock for you.
Please note that all crystals are unique and therefore there will be variations in color, shape, structure, surface, etc.
Tighten skin and reduce cellulite.
This Gua Sha is designed for reducing cellulite and tightening loose skin on thighs, butt, legs, belly and arms, as well as reducing tension in fascia and fluid retention in the body.
View the guide on how to use your Shape Body Gua Sha here.
WHEN NOT TO GUA SHA
Gua Sha massage is not ideal when you have:
Sunburn
Fugus
Infected skin
Wounds
Damaged skin
Skin cancer
Illness
Swollen lymph nodes
Fever
If you are in doubt, always ask your doctor. Use with caution if you are taking blood thinning medication. If you have any type of blood disorders, or have extra sensitive skin due to illness and medicine, talk your doctor first.
CAN I USE MY GUA SHA WHILE I'M PREGNANT?
It is safe to perform Gua Sha massage on your face while pregnant, but ask your doctor first before doing Gua Sha on your body, as this treatment is detoxifying.
HOW DO I CLEAN MY GUA SHA?
You should wash your Gua Sha with soap and water after each use.
Crystals absorb energy, so we also recommend cleaning your Gua Sha crystal energetically with sea salt baths. Fill a bowl with 1.25 cups of water and 1 tbs sea salt. Place the Gua Sha in the bowl and let it be there for up to 24 hours. If you have more than one Gua Sha crystal to clean, clean them separately, not in the same salt bath.
The metal on the glow rollers doesn't tolerate salt water, so to energy cleanse the glow rollers place them on a bed of dry sea salt for up to 24 hours.
HOW DO I RECHARGE MY CRYSTALS?
You can place your crystal Gua Sha tools in the windowsill during a full moon to charge them. You can also hold your Gua Sha in your left hand and place your right hand above the crystal and set a healing intention from your hand to the crystal, mentally reciting the properties you would like from it. Remember energy flows where intention goes.
HOW OFTEN CAN I USE MY GUA SHA?
There are no rules, but for visible results, we recommend you start by doing Gua Sha 5 times a week. Once you have your desired results you can maintain them by doing Gua Sha 3 times a week or as needed.
DO I NEED TO USE ANY SPECIFIC PRODUCTS WITH MY GUA SHA?
It's important you use an oil appropriate for your skin type or a balm that will provide glide for the Gua Sha tool.
WHICH CRYSTAL SHOULD I CHOOSE?
Choose the crystal that you feel intuitively attracted to or use the crystal descriptions for guidance.